satb
For a perusal copy of any score please send an email to the composer
Balulalow
SATB a cappella, Gordon V. Thompson (Leslie Music) VA-4028 (Leslie Music Supply, Oakville ON)
A prize-winner in the Amadeus Choir Carol Competition full of lush, expressive harmonies. This work is featured on the CD "Balulalow", by the award-winning University of Alberta Madrigal Singers, Leonard Ratzlaff, director. Medium Selected as "Favorite of the Month", December 2012, Musica international
See Watch Kölner Kantorei
Celtic Carol (Sweet was the Song)
SATB a cappella, Kelman Hall 05/20 MMP 30 (Music Plus)
A setting of the traditional medieval text "Sweet was the song, the song the virgin sang". Warm sustained harmonies compliment the sentiment of this beautiful text. Expressive ornaments underscore the Irish origin of the text. Watch
Audio clip: Adobe Flash Player (version 9 or above) is required to play this audio clip. Download the latest version here. You also need to have JavaScript enabled in your browser.
Det finns en ros som renast är (There is no Rose)
Found in the Christmas collection Julkören published in Sweden by Notfabriken Music Publishers
Audio clip: Adobe Flash Player (version 9 or above) is required to play this audio clip. Download the latest version here. You also need to have JavaScript enabled in your browser.
D'ou viens-tu, bergère?
SATB a cappella An American Christmas ed. Jerry Rubino, Oxford University Press. An a cappella version of one of Canada's best-loved Christmas lullabies. The collection contains 16 carols arrangements by well-known composers from North America. See
Du förstår när han är här
SATB a cappella Gehrmans Musickförlag SKG 10083.
This is the Swedish version of "Thou shalt know Him". See the description, reviews and soundfiles below.
Dormi Jesu
SATB a cappella, Boosey & Hawkes M051-47741-8
First Prize Winner of the 2005 Amadeus Choir of Greater Toronto Carol Competition in the a cappella division. This lullaby-carol has elegant lines and sophisticated harmonies. Selected as "Favorite of the Month", December 2012, Musica internationaly See and hear Watch
Ecce concipies
SATB a cappella Boosey & Hawkes 051-47974
This a cappella Advent motet, with a text taken from the Gospel of Luke known as the "Annunciation," uses long, legato, intense lines to describe the birth of the baby Jesus. With divisi in all voice parts and full vocal ranges required from everyone, this lush setting is suitable for the very best college and professional choirs.
See and hear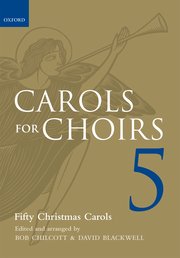 God Rest You Merry Gentlemen
SATB and organ, Carols for Choirs V, Edited by David Blackwell and Bob Chilcott, Oxford University Press 978-0-19-337356-3
Found in this newest version of the famous 'Carols for Choirs' that commemorates the 50th anniversary of the celebrated first volume. Orchestrations of brass+organ or full orchestra are available for rent from Oxford University Press
Huron Carol
SATB a cappella in 'Christmas Carols of the World" and 'Weinachtslider aus aller Welt' ed. Volker Hempflig, Carus Verlag
The new choral anthology Christmas carols of the world will enrich the Christmas repertoire for choirs, with lots of exciting choral arrangements of a selection of 85 international Christmas carols. It is edited by Volker Hempfling and contains arrangements by composers from 23 countries in their original languages, including John Rutter, John Høybye, Mark Sirett, Wolfram Buchenberg, Matti Hyökki and Fredo Jung. See and hear Also available separately: Order
I Heard the Bells on Christmas Day
SATB and organ, Roger Dean 10/2386R
A graceful melody compliments the powerful words of Henry Wadsworth Longfellow, a longing for peace, the true message of Christmas. See and hear
Audio clip: Adobe Flash Player (version 9 or above) is required to play this audio clip. Download the latest version here. You also need to have JavaScript enabled in your browser.
If Ye Would Hear the Angels Sing
SATB and organ, Canadian International CIM1063
This carol setting was the commissioned by Yorkminster Park Baptist Church, William Maddox, director, for the annual Advent Carol service by the 'Churches of the Hill', Toronto. A magnificent text paired with a majestic tune and commanding organ accompaniment. Great conclusion to an Advent or Carol Service. See and hear
Audio clip: Adobe Flash Player (version 9 or above) is required to play this audio clip. Download the latest version here. You also need to have JavaScript enabled in your browser.
Love Came Down at Christmas
SATB and organ, Canadian International CIM1031
A simple and melodious setting of this classic text by Christina Rosetti. Easy and very effective. See
Make We Joy Now
SATB, brass and organ, Gordon V. Thompson (available from Alfred)
A colourful and exciting setting of this traditional Christmas text provides interesting mixed metres and lively rhythms. The work can be performed with organ alone, or organ and brass. Another winner of the Amadeus Carol Competition. Exciting and rewarding. See
O Brillante Estrella
SATB and piano, Boosey and Hawkes 48019887
Commissioned by the Toronto Mendelssohn Choir, Noel Edison, conductor. An original composition on a traditional Puerto Rican Christmas nativity text, O Brillante Estrella is in the style of a villancico, a lively Spanish carol. Colorful harmonies, syncopated rhythms, and flamboyant accompaniment help to capture the Spanish and Latin American spirit of this engaging piece. Brass and organ version available from the composer. A contemporary vivacious setting of a Latin-American text that celebrates the arrival of the three kings. Full of bold Spanish harmonies and tango-inspired rhythms great for the concert stage. A wonderful addition to the music of Christmas, beautifully crafted and gorgeous to sing…Philip Brunelle, American Organist See and hear
Audio clip: Adobe Flash Player (version 9 or above) is required to play this audio clip. Download the latest version here. You also need to have JavaScript enabled in your browser.
The Oxen
SATB and piano, ECS Publishing 6415
A setting of Thomas Hardy's magnificent poem about the legend of the oxen kneeling in adoration at midnight on Christmas Eve. A strong, handsome tune is accompanied by a majestic piano part that can also be effectively performed by harp. Very moving ending. Not difficult. Especially good for teen mixed choirs, and older choirs. Thomas Hardy's evocative poem is given an equally atmospheric setting by the Canadian composer Mark Sirett. If you know other music of Sirett's (like the lovely Christmas motet, "Thou Shalt Know Him"), you know how beautifully he writes for voices. This is another gem with a finely wrought harp part. It would be marvelous for a Christmas Eve service.' …Philip Brunelle, American Organist See & hear
Song of the Angels (Gloria)
SATB and percussion, Boosey & Hawkes, M051476596
A colourful sound-scape on the "Gloria" of the traditional Latin mass. Experimental effects found throughout are quite accessible and often supported by the tuned and untuned percussion instruments. Gregorian chant inspires the opening and concluding melodies. The work received acclaim at the in 2003 Previa International Choral Festival in Greece. Medium to Difficult. See and hear
Audio clip: Adobe Flash Player (version 9 or above) is required to play this audio clip. Download the latest version here. You also need to have JavaScript enabled in your browser.
There is No Rose
SATB a cappella, Gordon V. Thompson (Alfred) VTS-4049
This classic Christmas text has been set to a haunting melody supported by rich impressionistic harmonies. The opening is a canon between sopranos. The verses develop harmonically to a dramatic conclusion, and a melting finale. Medium difficulty. This also appears as 'Det finns en ros som renast är' in a Christmas collection called Julkören (see above) Notfabriken Music Publishers
Audio clip: Adobe Flash Player (version 9 or above) is required to play this audio clip. Download the latest version here. You also need to have JavaScript enabled in your browser.
Thou Shalt Know Him
SATB a cappella, Augsburg/Fortress Press 0-8006-5520-6
Also available in Swedish from Gehrmans Musickförlag (listed above) and now available in Europe from the Church Music Society (OUP 978-0-19-395397-0)
One of Augsburg's top-selling choral octavos. A stunning text complimented by a soaring melody and expressive harmonies. This work has been frequently recorded and performed by choirs worldwide. This is also available in an SSAA version from Augsburg/Fortress. This has been performed by Vocalessence, Philip Brunelle, conductor, on American Public Media's national broadcast of "Welcome Christmas." …Mark Sirett's "Thou Shalt Know Him" is a piece of such resonant reverence that it could supplant "Silent Night" as your favorite …R. Hubbard See Watch Altra Volta
Watch CCP Watch Stetson University
Audio clip: Adobe Flash Player (version 9 or above) is required to play this audio clip. Download the latest version here. You also need to have JavaScript enabled in your browser.
Waye Not His Cribb
SATB a cappella, Boosey & Hawkes, M051-47574-2
Winner of the Amadeus Choir Carol Competition, this work has also been performed by VocalEssence directed by Philip Brunelle. The unusual but expressive text is by Renaissance English poet Richard Crashaw. The opening verse is set for alto or baritone solo and chorus. Moderate. The work has been recorded by the Elmer Iseler Singers, Lydia Adams, director on the CBC disc "Puer Natus in Bethelehem, Alleluia!" Hear
Audio clip: Adobe Flash Player (version 9 or above) is required to play this audio clip. Download the latest version here. You also need to have JavaScript enabled in your browser.
Welcome all Wonders
SATB a cappella, Augsburg Fortress Press
Commissioned by the Oriana Singers of Port Hope, this Christmas anthem is found in The Augsburg Choirbook for Advent, Christmas, and Epiphany, Augsburg Fortress Press ISBN: 9780800678586. Moderate.
What Sweeter Music
SATB a cappella, Augsburg Fortress Press 0800659287
This wonderful text by George Herbert has been set in rich harmonies that evoke the vivid imagery of the text. Especially good for more advanced church choirs, and in concert. Moderate. See
Audio clip: Adobe Flash Player (version 9 or above) is required to play this audio clip. Download the latest version here. You also need to have JavaScript enabled in your browser.