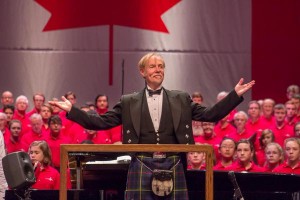 The 2017-18 season takes Mark to Ottawa for a series of workshops with the Stairwell Carolers, Atlantic Voices and Harmonia Choirs. Later in October his major work, Words, Stories, Truth will be premiered by all of the choirs of the Don Wright Faculty of Music. It was commissioned through a Canada 150 grant. In November he returns to Calgary for the inaugural Alberta Big Sing sponsored by Choir Alberta. The project will involve over 500 teen singers. Next summer, Mark is the guest conductor for the children and Adult choir at Singspiration, Edmonton.
Boosey & Hawkes recently released two treble works, Auld lang syne, with piano and flute accompaniment, and Treat the Earth Well, based on a wonderful First Nations text. Later in 2017 will be The Peace of Wild Things for treble voices and a a three-movement work for winter, Silence, Frost and Beauty for SATB chorus and instruments. The suite will also be available for Men's Chorus.
Canada's Cypress Choral Music recently added two Scottish folksong arrangements, Leezie Lindsay and Johnnie Cope. Coming soon will be Sparrow for SSA, piano and C instrument and True North for SATB and piano. Two sacred pieces are due for release soon: The Blessing of Light with Pavane publishing and Let Us Love with Augsburg/Fortress.
The 2016-17 season took Mark to Banff as the choral presenter for the Alberta Music Conference, to Saskatoon as guest conductor of the Saskatchewan High School Honours Choir and workshop clinician with Da Capo Chamber Choir, Schneider Male Chorus and the Monday Morning Singers in Ontario. Early in the 2017 he directed workshops in Dartmouth NS, Hamilton (RCCO), and with Ottawa's Cumberland Singers, Chorale Castenchel and Tone Cluster.
Other premieres in 2017 have included works for the Toronto Orpheus Choir, the Montreal Organ Festival, Montreal's Choeur Saint-Laurent, Edmonton's Vocal Alchemy and i Choristi Chamber Choir.
His own Cantabile Men and Women's Choruses toured France in July 2016 where they sang mass at Notre Dame, plus concerts at the Madeleine, St. Eustache, Chartres Cathedral and Vimy. In July 2017, Cantabile Men and Women's Choruses toured Ireland with performances in Belfast and Dublin.
new releases 2017
For a perusal copy of any score please send an email to the composer and he is more than happy to send you one.
sa
A la claire fontaine
SA and piano, optional flute, oboe, double bass Cypress Music CP1446
This song may have appeared as early as 1604 when the first French settlement was established in Quebec. A clear fountaine, a rose, and heart-break. Children love this charming folk-song arrangement and adults relate to the deeper meanings of love and loss.
See and listen
ssa
Auld lang syne
SSA, piano and flute, Boosey & Hawkes HL 48023947
Often translated as "times gone by" or "days long ago", this is a song of friendship and goodwill. Although it is most often sung on New Years Eve, it is equally appropriate at times of farewell such as graduations. This beautiful arrangement uses the original Scottish air. Additional small instrumental ensemble version available from the composer. See Score
Audio clip: Adobe Flash Player (version 9 or above) is required to play this audio clip. Download the latest version here. You also need to have JavaScript enabled in your browser.
Treat the Earth Well
SSA and piano, Boosey & Hawkes, Building Bridges Series, HL 48023877
The words for this are an ancient prayer from the Southwestern United States. They speak of the earth as a sacred and holy place that is worthy of our love and respect. The Prayer challenges us, as temporary residents of the land, to be diligent stewards on behalf of our children. And as we have come to expect, Mark's choral writing is intricate and rewarding.
Score
satb
Johnnie Cope
SATB and piano, Trad Scottish. Cypress CP 1559
This incredibly energetic arrangement would be a thrilling conclusion to any concert. Cope was a leader of the British troops and the battle that is described was a decisive victory for the Jacobites. See Listen Small instrumental ensemble version is available from the composer.

Leezie Lindsay
Trad. Scottish, SATB and piano, Cypress CP1558
A highland Laird courts the beautiful Leezie Lindsay in Edinburgh. He wins her heart and take her to the highlands where she becomes lady of a great castle. A beautiful tune about this wonderful romance! See Listen Small instrumental ensemble version is available from the composer.