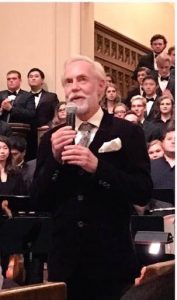 The 2017-18 season takes Mark to Ottawa for a series of workshops with the Stairwell Carolers, Atlantic Voices, Musica Viva and Harmonia Choirs.
In October his major work, Words, Stories, Truth was premiered by all of the choirs of the Don Wright Faculty of Music, Western University. It was commissioned through a Canada 150 grant. In November he returned to Calgary for the inaugural Alberta Big Sing sponsored by Choir Alberta. The project will involve over 500 teen singers at Jack Singer Hall.
Next summer, Mark is the guest conductor for the children and Adult choir at Singspiration, Edmonton and in the fall will travel to Korea for direct a choral festival for the Association of Music in International Schools.
In November 2017 both the SSA and SATB versions of Raylene Rankin and Susan Crowe's Sparrow with piano and violin or flute, and the powerful anthem True North for SATB and piano have just been released by Cypress. The work was written to celebrate Canada's 105th anniversary and was commissioned by the Orpheus Choir of Toronto.
Premieres in 2017 have included works for the Faculty of Music Western University, Orpheus Choir of Toronto, the Montreal Organ Festival, Montreal's Choeur Saint-Laurent, Belleville Choral Society, Edmonton's Vocal Alchemy and i Choristi Chamber Choir.
new releases fall 2017
For a perusal copy of any score please send an email to the composer and he is more than happy to send you one.
ssa
Sparrow
SSA and piano, violin or flute. CP 1607 This beautiful winter song if the creation of the Canada's beloved Raylene Rankin and Susan Crowe. The text expresses the concern for the environment and would be an ideal number for winter concerts or Earth Day. Score
Treat the Earth Well
SSA and piano, Boosey & Hawkes, Building Bridges Series, HL 48023877
The words for this are an ancient prayer from the Southwestern United States. They speak of the earth as a sacred and holy place that is worthy of our love and respect. The Prayer challenges us, as temporary residents of the land, to be diligent stewards on behalf of our children. And as we have come to expect, Mark's choral writing is intricate and rewarding.
Score
satb
Sparrow
SATB and piano, violin or flute. CP 1610 This beautiful winter song if the creation of the Canada's beloved Raylene Rankin and Susan Crowe. The text expresses the concern for the environment and would be an ideal number for winter concerts or Earth Day. Score
True North
SATB and piano. Cypress CP 1575. This is a stirring anthem to celebrate Canada's 15oth commissioned by Bob Cooper's wonderful Orpheus Choir of Toronto. Score