satb
For a perusal copy of any score please send an email to the composer
After the War
SATB and piano, Cypress Choral Music CP 1328
Sarah Slean sang this song in the film "Passchendaele". Paul Gross, from Calgary-Alberta, wrote, co-produced and starred in the film which focuses on the experiences of a Canadian soldier at the Third Battle of Ypres. Mark has transformed the song into a wonderful choral composition which would be well suited to Remembrance Day events or any concert concerning War and Peace. Small ensemble version available from the publisher. See and hear Watch
Auld lang syne
SATB, piano & flute, Boosey & Hawkes M051-47770-8
A moving setting of the wonderful Burns words to the original version of the Scottish air (different that the one often heard!) This is the perfect conclusion to a holiday concert, and also appropriate for graduation and other times of farewell. Small instrumental version of flute, violin, double bass + piano available from the composer. See and hear
Audio clip: Adobe Flash Player (version 9 or above) is required to play this audio clip. Download the latest version here. You also need to have JavaScript enabled in your browser.
Barter
SATB and piano with optional string quartet Boosey & Hawkes (Conductors Choice) HL 48023647
Nothing comes easily in life, but, as poet Sarah Teasdale assures us, life holds such treasures that we must give our all and "never count the cost." This was written for the Association for Music in International Schools Honours Choir Festival, Luxembourg 2015 See and hear Watch
Berceuse acadienne
SATB a cappella Boosey and Hawkes M051-4801992-8
One of the most beautiful melodies from the French Acadian region of Canada's east coast is exquisitely for a cappella voices. This lullaby is suitable for teens and adult choirs and is also appropriate for Christmas. Easy. See and hear Watch
Ce beau printemps
SATB a cappella Boosey and Hawkes M051-4801988-6
This is a gorgeous love song that celebrates the coming of spring and the young love. Easy especially appropriate for high school, college/university and community. This is an excerpt and reworking of a passage from the larger choral/orchestral work, 'Beltane' ...exquisite!…it is unique, beautiful and an exquisite setting for the poem. Some dissonant complexity and time signature changes make it initially challenging to sight read through, but with practice it is a gem. I would sing it again anytime! And that is why I am looking into more of Mark Sirett's compositions!…Boston MA
See and hear Watch – Rancho Bernardo Madrigal Alumni Choir
Citadel Hill Canadian folk song SATB and piano, Cypress Choral Music CP 1245 Mark is a master of writing approachable choral music…a breeze for the director and a joy for the singers. This is another of his charming folksong arrangements. Small ensemble version available from the composer See and hear Watch
Audio clip: Adobe Flash Player (version 9 or above) is required to play this audio clip. Download the latest version here. You also need to have JavaScript enabled in your browser.
The Cliffs of Dooneen
SATB and piano, Cypress Choral Music CP 1165
The Cliffs of Dooneen is a popular and haunting Irish folk song that extols the rugged beauty of the Atlantic coast. The final verse expresses longing for the homeland–a sentiment shared by many Irish immigrants during the nineteenth century when they were forced to leave for North America because of the Great Famine. This arrangement was written for Sister Rita Clare and the Cape Breton Chorale for the Celtic Colours Festival in 2008. The SSA version is dedicated to Ann McIntyre, Conductor of the Edmonton Children's Choir. See and hear Watch
Audio clip: Adobe Flash Player (version 9 or above) is required to play this audio clip. Download the latest version here. You also need to have JavaScript enabled in your browser.
Cloths of Heaven
SATB and piano, Kelman Hall 06/2061 (Music Plus)
A beautifully moving setting of Yeats magnificent poem "Had I the heaven's embroidered cloths." This work, also available in SSA and TTBB was commissioned by Music Plus and the Lyrical Lines Education Network for the 2007 Waterloo Region High School Choral Festival to be held in Centre in the Square, Kitchener-Waterloo. Medium difficulty. Small ensemble version for wind quintet + piano available from the composer. Watch – Choralfest mass choir of 750 voices rehearse this piece. Listen to the SATB version in performance by the Cantabile Choirs with guest conductor Bob Chilcott:
Audio clip: Adobe Flash Player (version 9 or above) is required to play this audio clip. Download the latest version here. You also need to have JavaScript enabled in your browser.
The Curragh of Kildare
Irish folk song, SATB and piano, Boosey and Hawkes M-051-479597
This exquisite Irish ballad tells the tragic love story of a young girl who goes to the Curragh to find news of her handsome love, a young man destined to be killed with his compatriots in battle. Excellent choice for concert, festival or international folk celebration. Commissioned by St. Francis Xavier University Chamber Singers. See and hear Watch
Farewell
SATB, violin and piano, E.C. Schirmer Music (ECS Publishing) 6582 This work was commissioned by the Ottawa Regional Youth Choir, Barbara Clark, director. The text was written by a member of the choir, Stephanie Boileau—colourful and atmospheric writing for chorus about a mermaid and the sea. The work is especially suitable to upper high school, community, and university level choruses. See and hear
Audio clip: Adobe Flash Player (version 9 or above) is required to play this audio clip. Download the latest version here. You also need to have JavaScript enabled in your browser.
Farewell to Tarwathie
Scottish folk song, SATB and piano, Cypress Choral Music CP 1357 (also available in SSA and TTBB)
This lovely Scottish folk song, made famous by Judy Collins, is suitable for community, high school and college/university singers. Additional flute, oboe, double bass parts available from the composer. See and hear
Go, Lassie, Go
Scottish folk song, SATB and piano, optional flute, oboe, violin, bass, Boosey & Hawkes M051476596 Instrumental parts: M051105106 A popular folk-song well known in Scotland and Ireland. This energetic rendition sets the audiences toes 'a-tappin'. A lively opening or concluding selection to a concert. Can be combined with the SSA version of the work. Watch – Kokoro, Brenda Uchimara, conductor
Audio clip: Adobe Flash Player (version 9 or above) is required to play this audio clip. Download the latest version here. You also need to have JavaScript enabled in your browser.
Hold On
SATB a cappella Boosey and Hawkes HL 1000125647
This inspirational, prayerful and moving a cappella work is based on an ancient Pueblo First Nations Prayer that encourages us to hold on to what is good, no matter the challenges that choice may present, and to maintain a strong faith in the world, in friendship, and in oneself. A powerful statement of encouragement and hope. Available for digital download only See

Johnnie Cope
SATB and piano, Trad Scottish. Cypress CP 1559.
This incredibly energetic arrangement would be a thrilling conclusion to any concert. Cope was a leader of the British troops and the battle that is described was a decisive victory for the Jacobites. See and hear Listen Small instrumental ensemble version is available from the composer.

Leezie Lindsay
SATB and piano, Cypress CP1558
Traditional Scottish tale by Robbie Burns. A highland Laird courts the beautiful Leezie Lindsay in Edinburgh. He wins her heart and take her to the highlands where she becomes lady of a great castle. A beautiful tune about this wonderful romance! See and hear Listen Small instrumental ensemble version is available from the composer.
Les Raftsmen
Québecois folksong, SA(T)B and piano, #6 in 'Song Stream 2', An American Journey: 10 Songs for Youth Choirs, complied and edited by Bob Chilcott and Peter Hunt, Oxford University Press
This vigorous French-Canadian lumberjack song, complete with body percussion, will delight younger singers. This practical folk song arrangement was written for this volume by Oxford University Press designed especially for younger choirs with few tenors and basses. Watch
Ononyatakaka
SATB, hand drum, sticks, rattle (Kelman Hall, Kitchener ON)
Inspired by Mohawk culture this work is a bold, rhythmic etude that represents sounds echoing off rock cliffs. The percussion instruments provide interesting cross rhythms to the vocal lines. A middle contrasting section is atmospheric. Very dramatic and energetic work especially good for teen singers and older singers. Medium difficulty. Watch
Audio clip: Adobe Flash Player (version 9 or above) is required to play this audio clip. Download the latest version here. You also need to have JavaScript enabled in your browser.
Onokenoga
SATB and percussion, Boosey & Hawkes 48019902
This dramatic soundscape retells the tragic Mohawk legend of two young lovers. Commissioned for Central Bucks High School-West Chamber Choir, Pennsylvania, Dr. Joseph Ohrt, director and premiered at the Toronto Centre for the Performing Arts in May, 2006. Medium difficult. Watch – Central Bucks High School-West Chamber Choir See and hear
Audio clip: Adobe Flash Player (version 9 or above) is required to play this audio clip. Download the latest version here. You also need to have JavaScript enabled in your browser.
O Take the Lute
SATB Porfiri and Horvath (Germany) PHP 112 057
A setting of a beautiful sonnet by Archibald Lampman. This new North American series edited by Zimfira Poloz and features music suitable for festival competition. This a cappella work is for advanced high school, university and community choirs. See
The Parting Glass
SATB a cappella, Boosey & Hawkes M051-473427
A hauntingly beautiful setting of this poignant Irish folk song of departure reminiscent of "The Turtle Dove" by Vaughan Williams. Made familiar to many by the well-known Irish band, the Chieftains. Graceful contrapuntal lines and warm harmonies underscore the bittersweet sentiment of the text. Medium …What a lovely piece of music to end a concert or any presentation where a farewell is appropriate. For 14 years,I have been the artistic director for an 'a cappella' ensemble. The challenge is to find meaningful lyrics and beautiful harmonies. We have found both in this piece. We love the time signature changes from 4/4 to 5/4 through the piece – it goes in a direction that the listener doesn't expect. The Celtic flare comes through the intervals in all 4 parts. It builds nicely form 2-part to 4-part. A GREAT ADDITION to our repertoire!…Boston MA Watch
Audio clip: Adobe Flash Player (version 9 or above) is required to play this audio clip. Download the latest version here. You also need to have JavaScript enabled in your browser.
The Pierless Bridge
SSA and piano CP 1332; or TTBB and piano CP 1333; or SATB CP 1294 , Cypress Choral Music
Emily Dickinson explores the question of faith is this poignant poem and Mark gives it the perfect gentle setting. See and hear
Red is the Rose
Irish folk song, SATB and piano, Boosey & Hawkes M051-47979-5
This anonymous Scottish text is set to the beautiful Irish melody Loch Lomond. With a piano part depicting the flowing river, passages featuring men's and then women's voices, and a middle a cappella section, this is a concert setting worthy of the best choirs. Duration: ca. 4:00. See and hear Watch
Things that Never Die
SATB and piano, Boosey & Hawkes M051-48093-7
Canadian composer Mark Sirett has set the inspirational Charles Dickens text in a simple and effective style. With a flowing and independent piano accompaniment, the singers paint the text with descriptive lines ending each verse with the powerful exclamation 'These things can never die' Duration: ca. 5:00 Additional instrumentation for wind quintet + piano available from the composer. See and hear
Un canadien errant
SATB and piano, Kelman Hall 04/20 MMP 28 (Music Plus, Kitchener ON)
One of Canada's best-loved folksongs; an emotional and heartrending story of a young rebel who is banished from his homeland. Poignant and dramatic setting that has often been used for Canada Day Unisong Festival at the National Arts Centre in Ottawa. Also available in SSA. Easy. Full orchestra version available from the composer. Watch Hart House Chorus, University of Toronto
Audio clip: Adobe Flash Player (version 9 or above) is required to play this audio clip. Download the latest version here. You also need to have JavaScript enabled in your browser.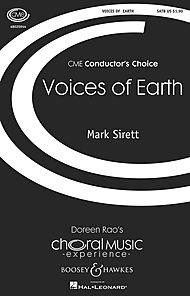 Voices of Earth
SATB, piano and violin, Boosey and Hawkes M051479603
This tone poem begins and ends gently, but rises to a striking moment when describing "the roar of the sea's surge, the might of thunder breaking" and is based on a poem by one of Canada's finest poets, Archibald Lampman (1861-1899). Appropriate for an advanced high school, college or community chorus. commissioned by the Dartmouth Concert Association for the award-winning Halifax Camerata, Jeff Joudrey, conductor. See and hear
Audio clip: Adobe Flash Player (version 9 or above) is required to play this audio clip. Download the latest version here. You also need to have JavaScript enabled in your browser.
Watane
SSA and percussion, easily adapted to SATB Boosey & Hawkes M051-4473434 (also appears in some catalogues as 'Wantane')
A soundscape inspired by aboriginal culture. Non-traditional vocal sounds, fragments of Iroquois- inspired chants, birdcalls, and varied percussion help evoke the atmosphere of the Eastern woodlands. The work has been performed at ACDA national and regional conventions, the CBC Choral Competition as well as festivals in Europe. Medium in difficulty. Watch Watch
Audio clip: Adobe Flash Player (version 9 or above) is required to play this audio clip. Download the latest version here. You also need to have JavaScript enabled in your browser.
Where have all the flowers gone?
Words and music by Peter Seeger, SATB, piano, optional, violin, flute, oboe, double bass, Boosey & Hawkes, M-051-47540-7 Full score: M-051-10515-1
A beautiful, expressive setting of this favorite song that longs for peace. Each verse varies in voicing. The setting is inventive and deeply moving. Since 911, especially suitable for concerts of remembrance and peace commemorating the 100th anniversary of WWI. String orchestra version available from the composer. Medium easy. See and hear Watch
Audio clip: Adobe Flash Player (version 9 or above) is required to play this audio clip. Download the latest version here. You also need to have JavaScript enabled in your browser.
Will Ye No Come Back Again?
SATB and piano, Alliance Music AMP 0391
A stirring arrangement of this great Scottish folk song of farewell. Each verse features different sections of the choir. The final verse is an outpouring of emotion; and thrilling conclusion with a dazzling piano part that evokes the sound of the highland drums and pipes. Excellent for youth and adult adult choirs. This has been used for Unisong on Canada Day at the National Arts Centre. Full Orchestration available from the composer. Easy/Medium difficulty. See and hear Watch
Audio clip: Adobe Flash Player (version 9 or above) is required to play this audio clip. Download the latest version here. You also need to have JavaScript enabled in your browser.